Visit Mitsubishi Electric & Smarter Grid Solutions at booth #4617.
Discover new technologies in DERMS, Power Quality Compensators, Vacuum Circuit Breakers, autonomous substation monitoring, renewable integration and more. February 7-9, 2023 in San Diego, CA.
Learn More
We're here to help.
Our expert sales staff have the knowledge, experience and vision to help you with your Power Generation requirements.
Contact Us
The Turbine Electro Hydraulic Governor (EHG) Control System manages steam flow to the turbine and can be applied to a variety of turbine generator system designs.
Mitsubishi Electric provides a full lineup of field devices such as servo motors, Linear Variable Differential Transformers (LVDT), and magnetic speed pick-ups (tachometers) to support turbine-generation operation. Our Turbine EHG Control System is implemented with a digital nuclear instrumentation and Control (I&C) platform MELTAC®.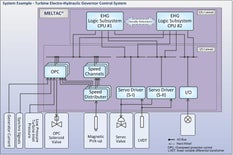 System Configuration
The Turbine EHG Control System is based on the MELTAC platform and its specialized I/O modules which have been developed to interface ​with the EHG-specific sensors and actuators. These specialized I/O modules ensure the response time required for turbine protection.
Speed channel module: Detect the turbine speed and electrical over speed
Servo driver module: drive the servo valves attached to the main steam valve actuators
Over speed protection control (OPC) module: initiate the excitation of the OPC solenoid valves immediately when the turbine speed or load unbalance exceeds a pre determined set point value.
System Features
The Turbine EHG Control System greatly improves turbine system reliability and significantly reduces turbine related down-time.
Ability to implement various automating functions such as valve test automation, free governor mode operation, and automatic turbine startup/shutdown. These functions reduce operator workload and reduce the risk of plant trips caused by human error.
Ensure the response time necessary for reliable turbine control, dedicated, function specific I/O modules are provided for important features of the turbine-control system. These include servo-valve drivers, over speed protection, and tachometer distribution and processing modules.
Applied redundancy to critical components in the system to prevents plant trips and output fluctuations that would be otherwise caused by single failures.
Feed Water Pump Turbine EHG Control System
Mitsubishi Electric also provides a Feed Water Pump Turbine (FWPT) EHG Control System. The FWPT EHG Control System is implemented with MELTAC® to realize high reliability and maintainability.
Reliable, Secure and Sustainable Energy Systems
Energy systems to power a safe, sustainable, and secure future
Providing inspection, maintenance, upgrades and service for energy power systems
Turnkey engineering, design, logistical and project management solutions
We're here to help.
Our expert sales staff have the knowledge, experience and vision to help you with your Power Generation requirements.
Contact Us