Visit Mitsubishi Electric & Smarter Grid Solutions at booth #4617.
Discover new technologies in DERMS, Power Quality Compensators, Vacuum Circuit Breakers, autonomous substation monitoring, renewable integration and more. February 7-9, 2023 in San Diego, CA.
Learn More
We're here to help.
Our expert sales staff have the knowledge, experience and vision to help you with your Power Generation requirements.
Contact Us
The Mitsubishi Electric Incore Instrumentation System (ICIS) measures neutron flux distribution in the reactor core.
The ICIS routes the movable incore neutron detectors into the selected core locations (thimbles) to receive the current signals proportional to the neutron flux. The ICIS cabinets display and record these signals t​​​​o provide input to the core management computer. The neutron flux information obtained from the ICIS is used to construct accurate core power distribution. The ICIS cabinet is implemented with a digital nuclear instrumentation and Control (I&C) platform MELTAC®.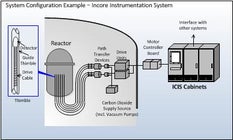 System Configuration
The Mitsubishi ICIS is composed of mechanical components and ICIS cabinets.
Detector: Measures the neutron flux in the reactor core. Detector is inserted and withdrawn into the core through thimbles by using a motor driven wheel that meshes with the detector driven cable.
Thimble: Serves as a guide tube through which the detector is routed into the selected core location
Drive unit: Inserts and retrieves/extracts the detector from the selected core location.
Path Transfer device: Selects the core location (thimble path).
ICIS cabinet: Controls and monitors mechanical components and receives detector signals, displays detector status, performs manual operations for insertion-extraction of the detector and system alerts.
System Features
The Mitsubishi Electric ICIS uses the following components to ensure high reliability and maintainability.
A brushless resolver is used to indicate the detector location with exceptional accuracy.
The path transfer device, used for detector path selection, uses a roller-gear cam mechanism to ensure high reliability and maintainability.
An inverter-controlled induction motor is used to drive the detector to ensure high reliability, maintainability and long service life of the motor brake.
The ICIS cabinet uses the detector to automatically measure and record the neutron flux distribution in a predetermined (configurable) sequence​. Data is stored in external media (e.g. DVD) for use in the core management program.
Reliable, Secure and Sustainable Energy Systems
Energy systems to power a safe, sustainable, and secure future
Providing inspection, maintenance, upgrades and service for energy power systems
Turnkey engineering, design, logistical and project management solutions
We're here to help.
Our expert sales staff have the knowledge, experience and vision to help you with your Power Generation requirements.
Contact Us